Fact Checked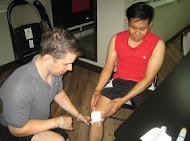 Since the onset of first aid training as a means of getting more people to understand the role of first aid, there have been numerous advancements in the field. It is amazing how today, not getting first aid training is no excuse especially because there are online tools that one can access from anywhere in the world. This has, undoubtedly, led to a sharp increase in the popularity of online first aid certification. The fact that anyone with internet access can learn first aid is an amazing accomplishment. Coupled with the realization that this can help save lives, it is little wonder why there is an upsurge in this form of training.
What are the benefits of online first aid certification?
–          Online first aid training has permitted virtually everyone to learn first aid so that there is absolutely no excuse to be ignorant.
–          Many of the first aid training websites offer courses at low costs, making it accessible to many more people who would otherwise not have enrolled in a training institute.
–          Online first aid training also has the benefit of offering courses at the convenience of the trainees. This means that when you are flexible, you can always start training, regardless of your location worldwide.
–          While the human body has remained the same over the years, this cannot be said of the first aid techniques trained. The advantage of doing it online is that information is constantly updated and one can be sure that they are getting quality content prior to their online first aid certification. This can easily be reflected in major changes that were made in 2010 which include, but are not limited to:
An increase in the level of compressions for adults so that the minimum depth that one can get to when administering first aid and CPR is 2.5 inches.
The stoppage of blind finger sweeps in giving infants and children first aid and CPR
Calling 911 after giving CPR in infants. The reverse holds true for adults.
Many online training institutions that you come across will be accredited by the relevant bodies in your country. There are many different categories of training in first aid and CPR, and this means that there are different types of online first aid certification. At the end of the day, it matters that one is well versed with the relevant training techniques.
Alongside conventional first aid training sessions, an individual could also settle for CPR and AED training to make sure that they comprehend the importance of the two, as well as to promote knowledge about the same. Choosing to get online first aid certification could just be the best decision of your life. What better way to gift both yourself and the people around you by learning how you could save lives? With numerous advantages such as this, it comes as no surprise that this form of training has become so popular.