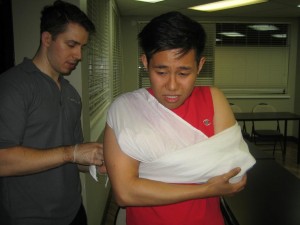 Would you know what to do if a friend fractured a leg or if a loved one went into cardiac arrest? Learn about these emergencies and injuries and how to manage them by enrolling in first aid training classes in Mississauga with Mississauga First Aid.  Many people are required to have training including construction workers, government employees, fitness workers, caregivers, teachers, health care professionals and students. Two popular courses offered by this provider, standard and emergency first aid, provide certification that meets Ontario WSIB requirements and is valid for 3 years. Re-certification courses are also available for individuals looking to renew expiring St. Mark James standard first aid and / or CPR level "C" certificates. This provider also offers a wide range of services including the sales of first aid kits, supplies and equipment. A large number of courses are also available including workplace hazardous material information systems (WHMIS), transportation of dangerous goods (TDG), H2S awareness and confined space training. To register for any of these courses or for inquiries about the services available in Mississauga use the contact information posted below.
Enrolment
Enrolment can be done by filling out the application form on the Mississauga First Aid website. Prospective trainees may also enrol via e-mail, telephone call, or walk-ins at the different training centres. Mississauga First Aid's very welcoming and friendly staff will be glad to assist you with your needs. Complete list of classes and schedules are available on the website.
Click here to visit the Mississauga First Aid website. You can also contact this provider using the following information:
Email: info@firstaidcourses.ca
Website: http://firstaidcprmississauga.ca
Toll Free Telephone Number: 1-888-870-7002
To Register for CPR and First Aid Training Classes in Mississauga Click Here
Top 5 Reasons to Register with Mississauga First Aid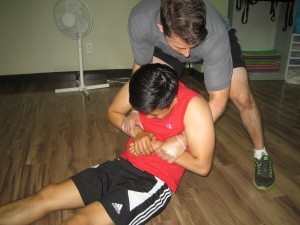 This WSIB approved provider offers the lowest courses in Mississauga
This provider is a one-stop shop for all first aid and workplace safety training and supplies
Instructors are friendly, knowledgeable and provide an interactive learning environment
A large number of different classes are offered multiple times per week for your convenience
The training center is centrally located with plenty of free parking
Did You Know?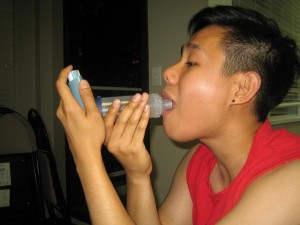 How to Treat for Shock
Trainees enrolled in St Mark James training will learn to recognize and manage victims that are in shock. Shock is a circulatory emergency that left untreated can become fatal. To minimize shock for a patient complete the following actions.
Give first aid for the injury or illness that is causing distress or is the source of the shock.
Reassure the patient as often as possible.
Be gentle and minimize pain by handling the casualty as gently as possible.
Loosen any tight fitting clothing around the neck, chest or waist.
Keep the casualty warm if applicable and do not over heat. Use jackets, coats or blankets if you have them.
Moisten the lips if the casualty complains of thirst. Do not give the person anything to drink.
Place the casualty in the best position. More information on how to do this is available with hands on training at any St Mark James first aid course.
Continue providing care until EMS arrives.