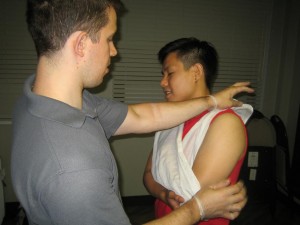 Red Deer First Aid offers Alberta OH&S and workplace and academic approved certification programs for the lowest rates in Alberta. First aid, cardiopulmonary resuscitation (CPR), and automated external defibrillation classes are available throughout the week, including weekends and evenings. Many other services are available with this provider including workplace safety and training consulting, first aid supplies and on-line and in-class safety training with programs such as WHMIS, H2S Alive and MSDS. Registration for any safety, first aid and / or CPR course is incredibly easy with reigistration available on-line, in-person, via telephone or email using the information provided below.
To Register for First Aid Training Classes in Red Deer click here
A complete list of classes and an on-line application form can be found on the Red Deer First Aid website. Trainees may also complete their enrolment with an e-mail, telephone call, or walk-in during business hours at any of Red Deer First Aid's training centres. Choose the certification class you need and enrol today. To sign up on-line for St Mark James first aid training classes in Red Deer, Alberta scroll to the bottom of this page to view the registration form.
Red Deer First Aid Contact Information
The following are contact details for this St Mark James provider in Red Deer, Alberta
Who Needs First Aid Certification in Red Deer?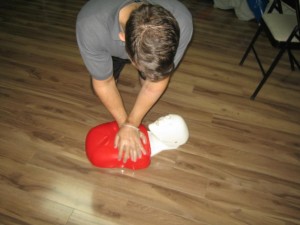 Standard and emergency first aid courses can be partnered with three levels of CPR: "A", "C", and "HCP". AED training is a mandatory component of all first aid and CPR courses as mandated by the American Heart Association. All levels include training in the use of AED's.
First aid classes focus on skill building on management of different emergency situations and injuries, such as choking, bleeding, and burn emergencies, to name a few. Because accidents can happen anywhere, especially the home, being knowledgeable a about first aid can prevent complications resulting from different injuries.
Stand-alone classes for CPR/AED are offered to trainees who do not want to undergo the more comprehensive courses.
All Courses Offered
The following is a list of all courses offered with this provider:
On-Line WHMIS Training
On-Line Fire Safety Training
H2S Awareness Training
Standard first aid and CPR
Emergency first aid and CPR
Standard childcare first aid and CPR
Babysitting first aid
CPR level "A" and AED
CPR level "C" and AED
CPR level "HCP" and AED (health care provider CPR)
Basic Life Support (BLS)
Advanced Cardiovascular Life Support (ACLS)
Pediatric Advanced Life Support (PALS)
Specific courses are available to be altered at candidates request.
This provider also offers:
First aid and safety consulting for your office, company or department to determine required training, supplies and response plans to meet OH&S requirements.
First aid supplies that meet Canadian registration and workplace requirements.
Private Courses
Private courses are available for participants wanting training for groups of almost any size. Competitive rates are available for large groups.
Certification Meets OH&S Requirements
Once a trainee has completed a training course, he or she is awarded a St Mark James training certificate, valid for three years throughout Canada. Certification with Red Deer First Aid will surely meet any requirements for home or work that the trainees might need. Refresher courses for expiring certificates are available several times per week.
Course rates with Red Deer First Aid are the cheapest in the area.
No other training service provider offers cheaper training courses than Red Deer First Aid. All class rates are inclusive taxes, certificates, St Mark James registration fees, training manuals, and training equipment. Trainees don't have to worry about additional expenses during the training.
If a trainee is unable to complete a training course, a full refund of the enrolment fee is given to them, as long as a 72-hour notice is given.
Courses are taught by St Mark James certified instructors in top-notch training facilities.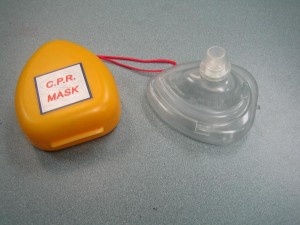 All courses are overseen by St Mark James and taught by St Mark James certified instructors. Red Deer First Aid training centres are equipped with spacious and well-maintained classrooms, complete with the latest training mannequins, AED trainers, and first aid equipment for all certification courses.
Because Red Deer First Aid is dedicated to the comfort of its trainees, all training centres in Red Deer are easily accessible by public transportation, with free parking, restaurants, and shops within walking distance.
Did You Know?
Abdominal pain
Abdominal pain can be a sign of different underlying conditions, from a gastrointestinal problem to internal bleeding. As a first aid rescuer, you should remember these initial first aid skills for management of abdominal pain.
If you have been diagnosed with Gastroesophageal Reflux Disease, also known as GERD, take an over-the-counter antacid or acid reducer in case of abdominal pain.
Constipation is difficulty defecation or decreased frequency in defecation. If you are experience abdominal pain due to constipation, take a laxative.
Take an over-the-counter analgesic such as acetaminophen. Avoid non-steroidal anti-inflammatory drugs (NDSAIDs) such as naproxen, ibuprofen, or aspirin because they can cause stomach irritation and bleeding.
Enrol in a training course with Red Deer First Aid today to learn about various different wounds, injuries and medical conditions.