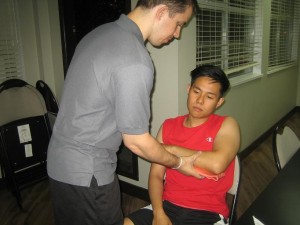 Victoria First Aid offers trainees an assortment of first aid training classes at the most affordable rates in Victoria, B.C.. Getting certified with St Mark James is as simple as completing a training course. Registration is remarkable easy with on-line, phone and email registration available. Trainees who are able to complete a course are awarded a St Mark James training certificate for first aid, cardiopulmonary resuscitation (CPR), and automated external defibrillation (AED). Several different level's of first aid are available including occupational, standard, emergency and childcare. Courses take either one day or two days to complete and are offered in a conveniently located and comfortable training centre. Rates are amazingly low and no other training service provider offers better deals than Victoria First Aid. Registration for first aid training classes in Victoria can be completed using the registration form on the bottom of the page.
Victoria First Aid Contact Information
The following is contact information for this St Mark James training provider in Victoria, B.C.
Click Here to Register for First Aid Training Classes in Victoria, B.C. Now
First Aid and CPR/AED Training
There are three categories for CPR training: A, C, and HCP. All of the categories can be partnered with one or two day first aid training and AED training. AEDs are part of the Basic Life Support Pathway
First aid classes are focused on knowledge and skill building for different injuries due to emergency situations. Simple home accidents can easily be patched up with first aid, as well as life-or-death situations needing emergency first aid action.
The following is a list of popular first aid courses available in Victoria:
Standard first aid, CPR and AED
Emergency first aid, CPR and AED
Childcare first aid, CPR and AED
Occupational first aid, CPR and AED
Stand-alone classes for either CPR/AED or first aid are offered to trainees who do not want to undergo the entire training course. Big groups of trainees or companies can choose to enrol in private classes for a separate training schedule.
Are Re-Certifications Available?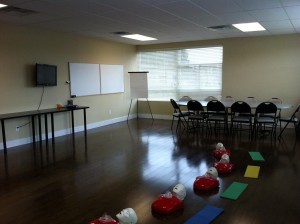 Participants looking to renew expiring awards can do so by attending re-certification programs. The following awards can be re-certified:
Standard first aid and CPR
Emergency first aid and CPR
Standard childcare first aid and CPR
CPR level "C" and AED
CPR level "HCP" and AED
In order to be eligible for a re-certification participants must meet the following prerequisites:
Previous certificate must still be current. Expired awards are not eligible for re-certification.
Previous certificate must be obtained in Canada. Awards from outside of Canada are not recognized
Previous certificate must be obtained through a credible provider. Certificates awarded through on-line courses are not eligible for re-certificaiton. View the list below to see the most popular credible provider.
The following is a list of credible providers:
St. Mark James
The Canadian Red Cross
St. Johns Ambulance
Vancouver First Aid
Canadian Ski Patrol
If you do not meet these prerequisites you are not eligible for re-certification. To book a re-cert course use the contact information posted above.
Are Private Courses Available?
Yes, private courses are available. To book a private workplace safety, food safe level 1, first aid and / or CPR course with Victoria First Aid use the contact information posted above. Private programs can be held at the training centre or a trained and qualified instructor can come to you.
Training course rates
Courses are offered at the cheapest rates in the area, with enrolment fees inclusive of taxes, certificates, and St Mark James registration fees. Training manuals and equipment are also included so trainees don't need to worry about additional expenses during the training period.
If a trainee is unable to finish a training course, he or she is entitled to a full refund, provided a 72-hour notice is given prior to dropping out.
St Mark James Certification
Certification through St Mark James is received after a trainee finishes a training courses. The certificate is valid for three years throughout Canada and will surely meet any requirements for school or work that the trainee might need.
Facilities and instructors
All courses are taught by St Mark James certified instructors, in spacious and well-maintained classrooms. Trainees receive the best training with the latest technology in first aid, CPR, and AED training. The training centres are easily accessible, within walking distance to public transportation and private parking.
Did You Know?
Basic Life Support
Abdominal pain: when to seek medical help
When pain lasts for several days, or is persistent over several hours even with analgesic medication
Pain is accompanied by nausea, fever, and inability to eat
Bloody stool
Blood in vomit
Dysuria (pain while urinating)
Constipation
Difficulty breathing
Recent abdominal trauma or injury
Persistent heartburn over the past two weeks
 Enrol in a first aid and CPR course in Victoria today to learn about various medical conditions, injuries and wounds.