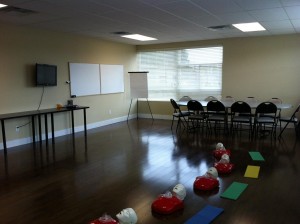 The largest and most popular St Mark James training provider in the Lower Mainland is Vancouver First Aid. This provider has multiple locations to offer first aid training classes in Surrey. Training centres are located in Surrey Newton and in Surrey Whalley. Both locations are conveniently located with ample parking and nearby amenities. Available courses include occupational, standard, emergency and childcare first aid. Participants may even register for food safe level 1 and 2 training. Re-certification, private and stand-alone CPR courses are also offered. Classes are available on weekends, weekdays and even on week-nights. You are sure to find a course that fits any schedule. To register for first aid training classes in Surrey scroll to the bottom of the page and complete the registration form. Enrolment is quick and easy as well! Just visit the Vancouver First Aid website for Surrey and choose the training course you want to enrol in. An on-line registration form is available on the site as well.
Contact Information
You can use the following contact information to register for a course:
Website: http://vancouverfirstaid.ca
Telephone: 778-709-9180
Email: info@vancouverfirstaid.ca
[button link="https://firstaidtrainingclasses.ca/registration/" rel="nofollow"] Click Here to Register for First Aid Training Classes in Surrey, B.C.[/button]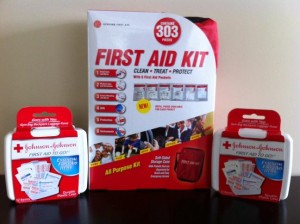 First Aid Courses
Participants can register for a number of different first aid training classes in Surrey including standard, emergency, childcare and occupational first aid (via the "WEFA" program).
First aid classes cover knowledge and skill training of different first aid skills. Bandaging, variations of choking rescues, and wound care are some of the skills trainees learn.
CPR Courses
A number of different CPR courses are available. CPR level "A" is the most basic and requires participants to attend a 4 hour course. CPR level "C" is a little longer at 5 hours and health care provider CPR (CPR level "HCP") is a 6 hour course. Re-certifications are available for level's "C" and "HCP".
CPR training specific to health care provider is also available. Participants can register for basic life support which is a 4 hour course or advanced life support courses such as PALS and ACLS which are two day courses.  All CPR courses follow ILCOR and American Heart Association requirements.
Re-Certifications
Participants that want to renew expiring awards can do so for the following certificates
Standard first aid
Childcare first aid
CPR level "C"
CPR level "HCP"
In order to be eligible for a re-certification participants must have a current award from a credible provider such as:
The Canadian Red Cross
Canadian Ski Patrol
St. Johns Ambulance
The Heart and Stroke Foundation
St Mark James
If your award is not listed above or if you do not meet the prerequisites you need to retake the original course.
Course rates
Courses are offered at the cheapest rates in the area. No other training service provider has more competitive rates than this Surrey provider. Enrolment fees are inclusive of taxes, certificates, and workplace approved registration fees, as well as use of training manuals and equipment.
If a trainee is unable to finish the course he or she signed up for, a full refund is given, provided a 72-hour notice was given prior to dropping out.
Standard first aid – 134.99
Emergency first aid – 79.99
Childcare first aid – 79.99
CPR level "A" – 49.99
CPR level "C" – 59.99
Food Safe level 1 – 74.99
WEFA (OFA level 1 equivalent) – 79.99
Register today as space is limited.
Certification
Getting certified with this Surrey, B.c. provider is hassle-free. Just finish the training course and you will be awarded a certificate for first aid, CPR, and AED training, valid for three years throughout Canada.
Refresher courses are available twice a week, with notably lighter course load than the full training classes.
Facilities and instructors
Courses are held in high-end facilities, with classrooms equipped with the latest training mannequins and AED trainers. All classes are taught by St Mark James certified instructors so you're sure to get the best training.
Did You Know?
Chemical burn: Eye injury
What to do?
Flush eye with clean, lukewarm water for 20 minutes. You can use the shower, tilt your head to the side (injured eye lower) in the sink, or with a glass/tumbler.

First aid and CPR training classroom in Surrey

Wash hands before and after with soap and water.
Remove your contact lenses and glasses.
DO NOT rub your eye. This can cause the chemical to spread.
DO NOT put anything in the eye aside from clean water or contact lens saline.
Eye injuries and poison treatment are components of St Mark James standard first aid program that is offered in Surrey via this St Mark James training provider.
Don't hesitate! Choose a course and enrol in a class today! You can't go wrong with Vancouver First aid.