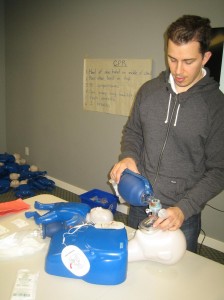 Nanaimo First Aid offers the best first aid training classes in Nanaimo, British Columbia. It doesn't compromise the quality of training despite offering the cheapest rates in the area. Schedules are very flexible, with classes held throughout the week, evenings and weekends included. Facilities are located throughout British Columbia, all very well-maintained and spacious for the best learning experience possible.
Nanaimo First Aid offers easy and hassle-free sign up for training programs.
The Nanaimo First Aid website has a list of offered classes, rates, and schedules to choose from before enrolment. Once you've chosen the program you want to enrol in, you can use the registration form on the same site to sign up. Other ways to sign up are through e-mail, telephone call, or walk-in during business hours.
Rates are the cheapest for all offered classes.

No other training service provider offers cheaper courses for quality programs than Nanaimo First Aid. Rates are paid in full during enrolment and include taxes, certificates, and training manuals. There are absolutely no additional expenses during the training period. Full refunds are given to students who drop out, as long as a 72-hour notice was done.
First aid training programs last 14-16 hours.
Nanaimo First Aid training programs cover a lot of ground, focusing on recognizing and reacting to different emergency situations. Lessons involve emergency medical services (EMS), cardiopulmonary resuscitation (CPR), automated external defibrillation (AED), and wound care for different kinds of injuries. This takes 14-16 hours total.
Stand-alone classes for CPR/AED are available in three levels.
There are three categories or levels in stand-alone CPR-only training. The three levels are 4, 5, and 6 hours long. All of these levels include training with automated external defibrillators (AEDs), with the last level (HCP) targeted towards health care providers.
Certificate cards are awarded to students who pass their enrolled program.
Wall-mount sized certificates are also available upon request. These certificates are only valid for three years and have to be renewed through recertification programs. Standard first aid and CPR / AED recertification lasts 8 hours and is available multiple times per week.
To pass a program or class, there are only three requirements:
Complete attendance
75 percent on the written exam
Good skill return demonstration
Did You Know?
Management of fractures
CALL your local emergency number (or if you can move the victim without compromising the fracture, bring to the nearest emergency room)
IMMOBILIZE the affected area
STOP any bleeding by putting light pressure on the wound with a clean piece of cloth, gauze, or bandage
ELEVATE the injured limb, preferably above the heart
APPLY cold compress on/above the area for pain and swelling