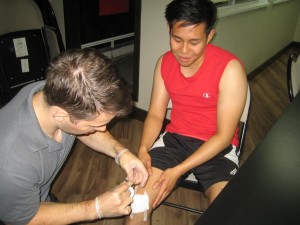 Halifax First Aid is the leading training service provider of St Mark James first aid, cardiopulmonary resuscitation (CPR), and automated external defibrillation (AED) programs in Nova Scotia. Participants that complete these courses receive academic and workplace approved St Mark James certificates that are valid for 3 years. Because of the increase in demand for certification programs, Halifax First Aid classes are offered during the evenings and weekends as well. This Canadian St Mark James training provider has steadily become the most popular training service provider because of the large selection of classes at the cheapest rates compared to competitors. Learn to manage a variety of emergencies including cardiac arrest, hypoglycemia, seizures, poisonings, choking, anaphylaxis, shock, deadly bleeding, spinals, concussions, broken bones, dislocations and many more by enrolling in Nova Scotia approved standard first aid training. Other popular first aid, CPR and AED courses include emergency, babysitting and childcare first aid. On-line safety training is also available and  Visit the Halifax First Aid website for a complete list of offered courses and start your training today! To enrol in first aid training classes in Halifax on-line scroll to the bottom of the page.
Halifax First Aid Contact Details
You can contact Halifax First Aid with the information below. Questions regarding classes, schedules, and enrolment can be directed to Halifax First Aid's very helpful staff.
Customer service representatives are available to answer questions during regular business hours. All emails will be responded to within 1 business hour.
What Courses Are Available?
A large number of courses are available with this Nova Scotia Provider. Check out the list of courses from the selection below: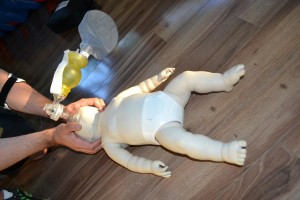 Emergency first aid and CPR
Standard first aid and CPR
Childcare first aid and CPR
CPR and AED only (no first aid)
Basic Life Support
Advanced life Support
Pet First Aid
Babysitting Training
H2S Alive Courses
H2S Awareness Courses
Food Safe Classes
WHMIS
MSDS
TDG
Fire Safety
Medical Terminology
To register or to inquire about any of these courses use the information posted above.
What Will I Learn in a First Aid Training Class in Halifax?
Participants that register for popular two-day standard first aid training will learn about the following topics:
Cardiopulmonary Resuscitation
Automated External Defibrillators
Choking
Barrier Devices
Being Prepared
Staying Safe During Emergencies
Sudden Medical Emergencies
Bone, Muscle and Joint Injuries
Head and Neck Injuries
Wound Management
Circulatory Emergencies
Breathing / Respiratory Emergencies
Environmental Emergencies
Learn more about the content of the course by visiting the Halifax First Aid website.
Certification is quick and hassle-free.
Trainees who are able to complete the training course are awarded a St Mark James training certificate, valid for three years throughout Canada. Refresher courses are available twice weekly for near-expiry certificates.
Did You Know?
Common triggers of anaphylactic reactions
Medication
Food (peanuts, fish, shellfish are common allergens)
Insect stings (from bees, yellow jackets, hornets, and fire ants)
Immediately call 911 or your local emergency number upon experiencing these and you are without your autoinjector. Once stable, visit a doctor.
Get the best first aid, CPR, and AED training with Halifax First Aid today!