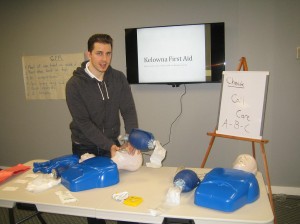 Learn to manage emergencies such as anaphylaxis, asthma, heart attacks, cardiac arrest, shock, angina, strokes, deadly bleeding, embedded objects, head injuries, spinals and more when you enrol in workplace approved standard first aid training in the Okanagan Valley with Kelowna First Aid. This incredibly popular training provider has been serving the valley with workplace safety courses since 2006. Participants may register for a wide range of courses including standard first aid, occupational first aid, food safe level 1, WHMIS, TDG, fire safety, MSDS, H2S awareness, confined space entry, private infant CPR and many more. Use the contact information below to register for a workplace safety, food safe or first aid course in Kelowna today. You can also visit the Kelowna First Aid website to register for any course on-line.
Kelowna First Aid
Enrolment
Enrolment with Kelowna First Aid is quick and hassle-free. Trainees can visit the Kelowna First Aid homepage for a full list of offered training courses and schedules and register using the application form on the same page. E-mails, telephone calls, and walk-ins at the training centre are also highly encouraged by the Kelowna First Aid staff.
Email: info@firstaidkelowna.ca / info@firstaidcourses.ca
Website: www.firstaidkelowna.ca
Telephone: 1 250-277-1944
What Will I Learn in a First Aid Course?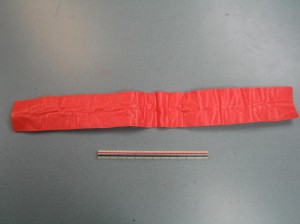 Participants that register for a two-day standard first aid course with Kelowna First Aid will learn about the following topics:
Emergency scene management
Victim and rescuer safety
Victim transport
When and how to contact EMS
Primary survey
Opening the airway
Management of unconscious victims
Checking vitals
Cardiopulmonary resuscitation
Recognition and management of choking victims
CPR complications
How to use an automated external defibrillator (AED)
Heart Attacks
Wound management
Angina
Stroke
T.I.A.
Head Injuries
Neck Injuries
Spinals
Sprains
Strains
Dislocations
Broken bones
Open fractures
Closed fractures
Avulsions
Tourniquet
Bruising
Poisonings
Seizures
Hypothermia
Heat Stroke
Heat Exhaustion
Secondary Survey
5 Rights of medication
Legal implications of providing aid
Heat cramps
Do not resuscitate orders
Compression only CPR
Artificial respiration
Use of personal protective equipment (PPE)
Contents of a first aid kit
Slings
Splints
Concussions
Cardiac arrest
Diabetic emergencies
Epinephrine injectors
Hypoglycemia
Hyperglycemia
1st degree burns
2nd degree burns
3rd degree burns
Nose bleeds
Learn about these topics and more when you register for a two day standard first aid course.
https://youtu.be/Dsvtzwp4nG8?si=Dyml4Iyc_Jt2dnwe
Private classes
Private classes are offered to trainees who have scheduling problems and cannot enrol in any of the regular class schedules. Big groups and companies who request separate training classes usually opt for private classes with personalized schedules.
Course rates
Training courses are offered at the most affordable rates, compared to other training service providers. The enrolment fees are inclusive of taxes, certificates, and St Mark James registration fees. Training manuals and equipment are also included in the initial fees so trainees don't have to worry about additional expenses during the training period. Course rates ranges from 49 dollars to 145 dollars.
Standard first aid and CPR – 144.99
Emergency first aid and CPR – 89.99
Childcare first aid and CPR – 89.99
CPR level 'A' and AED – 54.99
CPR level 'C' and AED – 69.99
Instructors and facilities
All courses are taught by St Mark James certified instructors, using the latest equipment in first aid and CPR/AED training. The training facilities are very high-end and well-maintained because Kelowna First Aid wants its trainees to be very comfortable during training. All centres are easily accessible by both public and private transportation, with restaurants and shops within walking distance.
 Did You Know?
Nosebleeds
There are two goals a first aider must keep in mind in managing nosebleeds: (1) controlling blood loss and (2) keeping an open airway. Here are the steps in managing a bleeding nose.
Assist victim in sitting down, with the head tilted slightly forward. Tell victim not to lean back or this may cause the blood to run down the throat into the stomach or into the lungs.
Ask victim to breath through his or her mouth and pinch the front part of the nose.
Use ice on the bridge of the nose to help with pain and to slow bleeding.
Remove pinch from nose after 10 minutes. If bleeding has not stopped, pinch nose again for 10 minutes.
Advise victim to avoid blowing the nose, hot temperatures, and stress.
Note: If nosebleed is severe and does not stop after 30 minutes, seek medical attention.
Kelowna First Aid is dedicated to providing trainees with the best learning experience possible. Enrol in a training course now and learn how you can possible save somebody's life. Head over to Kelowna First Aid today!