Learning how to give CPR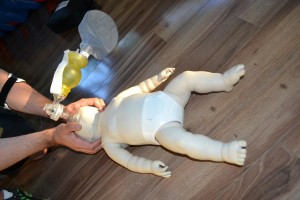 With the heart disease causing the most number of deaths in the entire world, it pays to be a trained CPR rescuer. CPR is a skill not just healthcare providers must know, but even the general public. When CPR is given correctly, it can help save a person's life. But exactly how important is CPR training? CPR involves the use of compressions and rescue breaths to get the heart pumping blood the rest of the body. Heart disease causes a build up of plaque in the vessels that give the heart oxygenated blood which causes not enough blood to reach the heart muscle. Without enough oxygenated blood, the heart has a a hard time pumping blood to the body. A stroke occurs when the entire vessel is blocked off, cutting off the blood supply to the heart. Both of these can cause a condition known as cardiac arrest. Heart disease has many types, primarily the following:
Atherosclerosis – hardening of the arteries due to a build up for fatty deposits known as plaques
Hypertension – persistently high blood pressure or a reading greater than or equal to a systolic of 140 and a systolic of 90 at two separate occasions within 7 days
Both of these conditions can cause:
Stroke and TIA (transient ischemic attack) – When a vessel gets blocked with plaque and blood cannot flow through it
Heart attack or cardiac  arrest – The heart stops beating or is in arrest
Signing up for a CPR course We have five programs available at Los Angeles CPR, three Basic Life Support programs and two Advanced Life Support programs. One BLS program and both ALS programs have available re-certification classes.
Basic CPR is offered in two BLS programs: Heartsaver CPR/AED and Heartsaver CPR/AED (C). The former is a general public program (4 hours) and the latter is for healthcare providers (4.5 hours). The program curriculum for both teaches trainees how to give one-person CPR, basic first aid, and defibrillation.
Basic Life Support for HCPs teaches one and two-person CPR, defibrillation, first aid, and the 2010 BLS guidelines from the AHA. It is a 4.5 hour program with a re-certification class that is 4 hours long.
Advanced Cardiac Life Support is an ALS program that teaches trainees medical management of adults who experience cardiac arrest. ACLS is a two-day course for HCPs with a total of 16 class hours. The ALS class for the management of pediatric victims is PALS – Pediatric Advanced Life Support. It has the same curriculum structure as ACLS but is shorter, having only 14 class hours total.
Certificates All of our classes are part of certification courses. Once you finish all the necessary requirements (complete attendance and passing the certification exam), we award you a CPR training certificate that is valid for two years in the US. It can be renewed before it expires through a re-certification class. Re-certification is available for the following programs:
Basic Life Support for HCPs – 4 hours
Advanced Cardiac Life Support – 5 to 6 hours
Pediatric Advanced Life Support – 6 hours and 20 minutes to 8 hours and 20 minutes