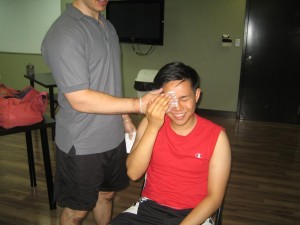 Grande Prairie First Aid is a St Mark James training affiliate that holds St Mark James training programs throughout the week in Alberta. First aid programs and CPR/AED classes are available at the cheapest rates in the area without compromising quality. As more and more schools and employers are requesting certification, more and more students have been flocking to Grande Prairie First Aid. You're sure to get the best possible training at this provider so choose a program and enrol today!
Grande Prairie First Aid
How do I sign up?
You can visit the Grande Prairie First Aid website for a list of available classes along with complete rates and schedules. The website also has an on-line registration form to complete your enrolment. Students can also enrol in person during business hours in any of the facilities, or through e-mail or telephone call The Grande Prairie First Aid staff will be happy to assist you.
[button link="https://firstaidtrainingclasses.ca/registration/" rel="nofollow"] To Register for First Aid Training Classes in Grande Prairie Click Here[/button]
How much are the fees?
There is no other provider that has better offers and rates than Grande Prairie First Aid. The fees are paid in full during enrolment and include taxes, certificates, and training manuals. Students don't have to worry about additional expenses. Should the student drop out, he or she is entitled to a full refund if a 72-hour notice was done beforehand.
What programs are there?
First aid training
Standard first aid training programs are 14-16 hours total, covering a variety of emergency situations needing first aid. Students are taught about the emergency medical services (EMS) system, wound care, cardiopulmonary resuscitation (CPR) and automated external defibrillation (AED). AEDs are machines that are attached to the chest and supply needed shock to the heart. Stand-alone CPR/AED classes are also available (levels A, C, and HCP), lasting 4, 5, and 6 hours respectively.
CPR/AED-only classes
There are three categories of CPR training that a student can choose from. A and C are targeted towards first time trainees while HCP is targeted towards health care providers. All categories include CPR and AED training for adult victims while C and HCP include pediatric CPR and AED.
Can I get private training?
All instructors at Grande Prairie First Aid are certified by St Mark James and have hourly rates for private training. Students can book trainers for special at home or work training, or even for events like conferences and company outings.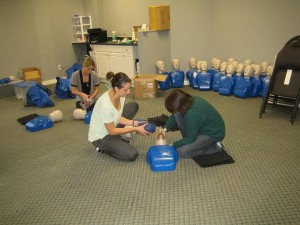 Certificates
To pass a class, the student is required to have:
Complete attendance
75 percent on the written exam
Adequate skill demonstration
Certificate cards are awarded to students upon completion of a training program. Wall-mount sized certificates are available upon request. These certificates must be renewed within three years through recertification programs. Recertification for standard first aid trainings lasts 8 hours and are held in a twice weekly program. This includes CPR level C or HCP recertification as well.
Did You Know?
Heart attack: immediate first aid
When you experience any signs and symptoms of a pending or on-going heart attack, take note of these immediate first aid tips:
DO call your local emergency number OR get someone to drive you to the nearest emergency room. DO NOT drive yourself if you can get help from someone else.
Take an aspirin or anti-anginal medication (such as nitroglycerin) prescribed to you.
If the person experiencing the symptoms falls unconscious, begin CPR immediately.