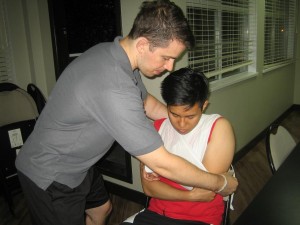 The largest, lowest priced and most popular St Mark James training provider in the Toronto metropolitan area is Toronto First Aid. This Ontario WSIB approved provider offers a wide variety of first aid, cardiopulmonary resuscitation (CPR), and automated external defibrillation (AED) courses. Trainees can enrol in standard first aid, emergency first aid, childcare first aid, stand-alone CPR and AED classes, private classes, and refresher / re-certification courses at the cheapest rates. Other available classes include on-line safety training such as transportation of dangerous goods (TDG) and workplace hazardous material information system (WHMIS) courses. Food Safety courses are also available. Certification for first aid and CPR training is provided immediately upon completion of the course and is valid for 3 years. Participants also receive a St Mark James manual to take home at the end of the course. Registration is quick and easy and can be completed on-line, via telephone or email. To register for first aid training classes in Toronto on-line you can scroll to the bottom of this page and complete the on-line registration form.
Look no further! Enrol with Toronto First Aid today!
Contact Information
You can contact Toronto First Aid with the following information.
This provider is located in a Toronto with plenty of amenities nearby as well as parking and great access to public transit.
What Courses Area Available?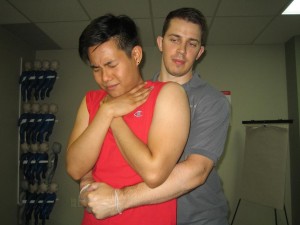 Five major groupings of courses are available with this provider. Here's a breakdown of what you may register for with this approved training provider in Toronto:
First Aid, CPR and AED
These WSIB approved courses are the most popular provided through this training provider. Courses are offered in either one or two day formats. Each course includes CPR and AED training.
Standard first aid
Emergency first aid
Childcare first aid
CPR and AED Only
Five different types of CPR and AED training courses are available. These classes are for participants that need only CPR / BLS training without any first aid.
CPR level "A" and AED
CPR level "C" and AED
CPR level "HCP" and AED
Basic Life Support (BLS)
Advanced Life Support (ACLS and PALS)
Re-Certifications
These classes are designed for participants that want to renew expiring certificates. Certain prerequisites are required in order to be eligible for these courses. The following awards can be re-certified:
Standard first aid
CPR level "C"
CPR level "HCP"
Food Safety Certification
Customers that are required to have food handling / safety certification can attend the following course:
Ontario workplace approved food handling course
Safety Training
A number of on-line safety courses are available with this provider. The following is a list of safety programs available:
Workplace Hazardous Material Information System (WHMIS)
Material Safety Data Sheet (MSDS)
Transportation of Dangerous Goods (TDG)
H2S Awareness
Medical Terminology
Fire Safety
Bear Safety
Confined Space Entry
To register for any of the above mentioned courses use the contact information provided above.
Private Classes
Private classes are available for groups and companies. They can be held at the training centre or a certified Ontario WSIB instructor can come to your facility / location is space allows. Use the contact information above to book or inquire about a private first aid, CPR and AED course.
Did You Know?
Signs and symptoms of an aortic dissection
Sudden, severe chest/upper back pain; described as a tearing/ripping/shearing sensation
Loss of consciousness
Difficulty speaking, vision problems, weakness, hemiparalysis (one side of the body becomes paralyzed)
Sweating
Weak pulse on one side of the body or limb
This condition happens when the inner and middle layer of the aortic wall separate due to a tear in the inner wall causing blood to flow between the two layers. Trauma is the most common cause of an aortic dissection. Go to the nearest emergency room/clinic if the symptoms above are experienced.
All courses are taught by St Mark James certified instructors using the latest training equipment in high-end facilities so you're sure to get the best training possible. Enrol in a training course today!