Many people require current certification in a first aid and / or CPR course to be employed. Employee's such as Lifeguards, nurses, fitness instructors and teacher's are all required to undergo first aid and CPR re-certifications. Re-certification courses are shorter and cheaper than the original course. The courses offer the same curriculum as the full course but in a condensed format with a focus on changes in standards and on area's that candidates need improvements. The following is a list of our  first aid and / or CPR recertification courses and the length of the course.
St Mark James First Aid and CPR Re-Certification Courses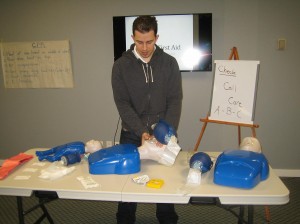 St Mark James standard first aid and CPR level "C" and AED – 8 hours in length.
St Mark James emergency first aid and CPR level "A" and AED- 8 hours in length.
Stand alone CPR level "C" and AED – 3 to 4 hours in length.
Stand alone health care provider CPR (CPR HCP) and AED – 4 hours in length.
All of the courses mentioned above include training with automated external defibrillators (AED's). To be eligible for a St Mark James first aid re-certification course a candidate must meet the following criteria.
It is important to note that each province has different criteria and requirements for re-certification classes and may not offer all of the above mentioned re-certs. Check with your local provider to see what is available in your area.
Re-Certification Program Criteria
A candidate must have taken a first aid full course or re-certification course within the past 3 years. Candidates that have not done a course within that time frame must re-take the course. In Ontario, participants may not take consecutive re-certification classes. 
Candidates must have a first aid certificate from a national provider. If a candidate wants to take a re-certification course in Canada, then he or she must have the previous certificate completed in Canada. Certificate's are not internationally accredited.
Candidates must have completed the previous certification through a credible provider. Credible providers include St Mark James, Heart and Stroke Foundation, St. Johns Ambulance and Canadian Ski Patrol. Certificates completed on-line are not eligible for re-certification through the major providers.
Candidates in Ontario must have completed the previous certification with a St Mark James provider
For more information about re-certification courses visit our St Mark James first aid and CPR course locations page. We work hard to bring you conveniently located training centres with re-certification courses at the lowest price in your region. All candidates will receive St Mark James first aid and / or CPR certificate's that are valid for 3 years. Stay updated with your first aid skills by taking a re-cert!