Fact Checked
For those who are concerned with doing infant CPR, here are a few tips that are going to make this successful.
The How:
Stay Safe: in many cases, children can have a contagious disease. Which means that you could be exposing yourself to something such as a virus. This is why you are going to want to take advantage of any safety equipment that is around you.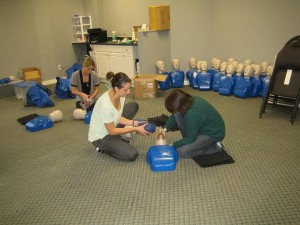 Try to Wake the Child: You are going to want to attempt to wake the infant. The best way is by tickling their feet or tapping their shoulders. For those infants that are above 2 months of age, you are going to want to tap their shoulder or chest. Call out their name in a loud voice to try to take them up. If the baby does not wake up, call 911 immediately. If the baby is still not breathing and no one is around to assist, then start with chest compressions.
Start Chest Compressions: You will want to put two fingers on the breastbone, directly below the nipples. You will want to push down about an inch and a half and then let the chest come all the way back up. You will do this 30 times, which is about twice every second. If you have been trained in CPR, then you can proceed with rescue breaths. However, if not, then you will want to continue to the chest compressions until 911 arrives.
Rescue Breaths: After you have given the infant 30 chest compressions, cover the baby's' mouth and nose with your mouth and blow until their chest rises. Let the air out, and then do this one more time. If you notice that no air is going in, then adjust the baby's head and try again. If this still does not work, continue with doing chest compressions and then try rescue breathing again.
Keep Going with CPR: In the event that you notice the baby is not breathing and you start compressions, you will want to call 911 after doing 2 minutes of compressions. Or if there is someone else there, have them call 911. You will not want to stop giving CPR until medical professionals have arrived. Even if the baby wakes up, you still need to go with the medical professionals.
A Tip to Keep in Mind:
If you are checking for breathing and are not sure, assume that the baby is not breathing. You are going to find that it is better to assume that the baby isn't breathing and do something, rather than wait to see what medical professionals think.
Related Video On Infant CPR
https://www.youtube.com/watch?v=Jppbw8Ab6sU