Fact Checked
Overview of Cuts, Scrapes And Punctures
Cuts sever the skin open. Seal a cut so it won't get contaminated.
Scrapes injure only the top section of your skin. They can ache more than cuts, but they heal faster.
Punctures wounds are deep. Leave punctures unsealed so they won't get contaminated.
Most scrapes, cuts, and punctures can be treated by yourself. But you should get emergency assistance if there is a lot of blood loss, or if you are wounded very badly. After bleeding for a few minutes, your blood does get thicker. This is called clotting. Clotting helps to slow the bleeding down.
Place some force on the cut to help slow the bleeding. You can also apply direct force for 15 minutes or more for a severe cut. Occasionally a cut requires stitches. Stitches assist the cut to heal quicker.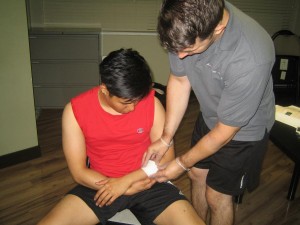 Leave the dressing on for at least one day. Change the dressing each day or whenever required. Be alert when you take the dressing off. You don't want the cut to start bleeding again.
Take aspirin or ibuprofen for severe pain. Don't take aspirin each day except if your health practitioner tells you to, because consuming too much can prevent the blood from clotting.
Note: Do not offer aspirin or any tablets containing salicylates to anybody 18 years of age or younger, except if administered by a doctor.
Phone your doctor if you have not had a tetanus injection in the last 10 years.
For punctures that cause slight bleeding:
By bleeding, the wound cleans itself
Get rid of the item that caused the puncture. Use hygienic tweezers. Take a lit match to the tweezers to disinfect them. Note: Don't draw anything out of a puncture injury if blood streams from it, or if it has been bleeding severely. Get emergency assistance.
Clean the wound with lukewarm water and soap.
The wound should remain open. Cover it with a dressing if it is large or still bleeds a little.
 Related Video On Cuts, Scrapes And Punctures
http://www.youtube.com/watch?v=f3UOHJQQCBA